Students complete 'Brilliant Club's' Scholars Programme
Back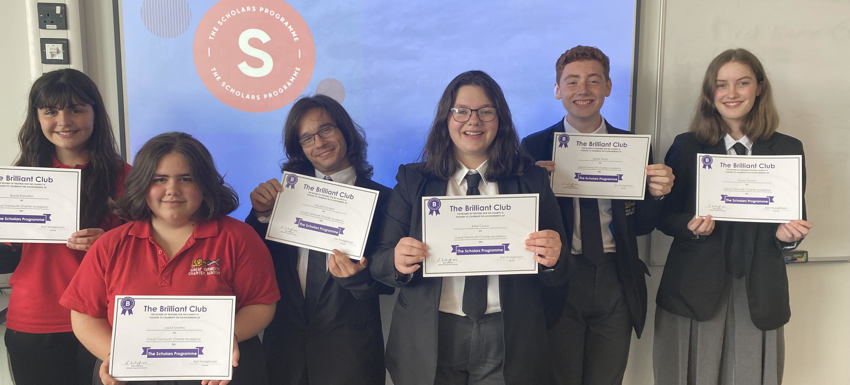 July 14th 2021
Six pupils from Years 9 and 10 recently completed The Scholars Programme from The Brilliant Club.
The pupils attended a series of after school sessions with their Brilliant Club tutor, Kat Hodgkinson, who is currently studying for her PhD at the University of East Anglia. As part of their course, the pupils completed a 2000 word assignment titled 'Mutant Cascades: Evolution of the Genome'. The course content was aimed at KS5 level in order to challenge the pupils on their knowledge and understanding of the topic and all work was graded in a University style. The pupils also learned valuable essay writing skills such as how to reference other scientific work and use evidence from their own research to back up their own ideas. In what has been a really challenging time for the pupils they have demonstrated a fantastic work ethic, determination and resilience to succeed on the course. We are extremely proud of their achievements.
Year 10 student, Erika Cirone, put herself forward as a 'SpokeScholar' for the Graduation Event which was held virtually in partnership with the University of Southampton. Pupils were introduced to the University by student ambassadors and had the opportunity to ask questions about the journey from high school to University and life beyond.
Erika said the course "created a nice atmosphere and made the programme really enjoyable. It was generally very challenging but the satisfaction I got at the end of it made the process invaluable. One thing I did find particularly challenging within the programme was the difference between evolution and adaptation which I received help with very early on and managed to overcome with the help of my tutor and peers"
Below is an extract from Erika's submitted work: 'Evolution can also be partitioned into more particular events that may be partially responsible for the genetic change between the genes. For example, mutation, genetic drift and natural selection are all possibilities when looking at a phenotype's reason for change. By evaluating the genes themselves through a biological lens such as that of phylogeny, an instant assumption is made about the evolution and chemical progression of the organisms. This already implies speciation. To provide further evidence for the speciation of the aquatic microorganisms, one should discuss the genomic composition of the three strains and what the data may then imply, look at possible evidence for evolution, look at phylogeographical data and what it suggests, molecular composition and data and how all topics previously listed link and assess the probability for speciation'.
Click here to find out more about the 'Brilliant Club'