Great Yarmouth Charter Academy launch brand new library to inspire love of reading
Back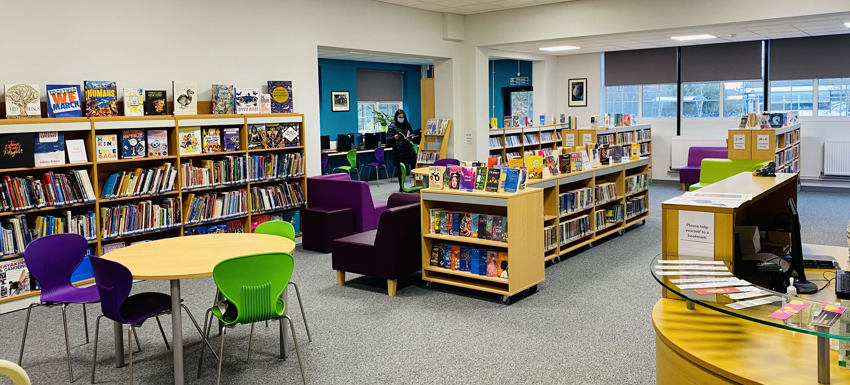 February 10th 2022
Great Yarmouth Charter Academy are thrilled to announce the opening of their new library, housing hundreds of new and exciting books for students to enjoy. From classic fiction, to fact filled reads, students at GYCA will benefit from a diverse and inclusive range of literature at their fingertips.
The purpose of the new library is to create a warm and welcoming environment where students feel comfortable enough to visit and explore literature and ideas that they maybe would not have previously, and to inspire a love for reading. Amongst a whole host of exciting new books, the new library has also been furnished with bean bags, plants, warm lamp lighting and cosy areas that promise a calm and chilled experience for all students to enjoy.
Great Yarmouth Charter Academy's Vice Principal, Lynne Weber, and librarian, Daisy Demarco, have worked hard to ensure that a space is accessible for all students to get lost in reading. They have worked on various initiatives to entice students to have fun when selecting books, including their 'Blind date with a book', that aims to encourage students to read literature outside of their comfort zone.
Lynne Weber said:

"When we moved into the new library, we had a room and a few boxes of books. Our goal was to create a space that was both functional, and beautiful and warm: a place where everyone would feel welcome and could imagine themselves curling up with a good book.

It was a huge project that involved our working closely with Norfolk Children's Book Centre to build a collection of books that would provide both a window to a world far bigger and wonderful than anything our pupils could imagine, but that would also be a mirror in which all our pupils would be able to see themselves."
Huge thank you to Norfolk Children's Book Centre who helped to transform GYCA's library. This is a project we would love to roll out across all of our Inspiration Trust schools. If you're a business who would like to be involved with this and help transform our libraries to ensure children have access to the best resources, please get in touch with our Head of Community Development, Laura Foley, laurafoley@inspirationtrust.org.