Great Yarmouth MP, Brandon Lewis, visits Sir Isaac Newton East Sixth Form
Back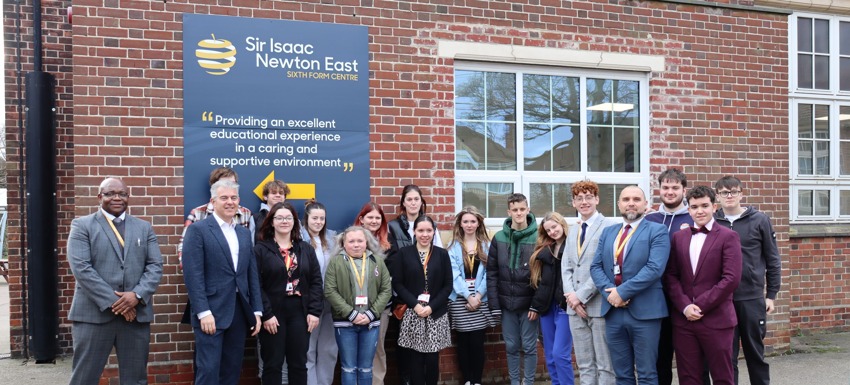 January 16th 2023
On Friday 13th January, Great Yarmouth MP Brandon Lewis visited Sir Isaac Newton East Sixth Form in Great Yarmouth. The new sixth form, which opened its doors in September 2022, is modelled on the Ofsted Outstanding Sir Isaac Newton Sixth Form in Norwich and promises to widen the opportunities available to the students of Great Yarmouth and its surrounding towns.
One such opportunity occurred today, with Mr Lewis visiting the Sixth Form and taking part in a Q&A session with its first cohort of students.
Sir Isaac Newton East students were able to ask their local MP questions regarding education in Great Yarmouth and what it is like working in politics in a Q&A session. An extremely insightful experience for all, but especially for the students interested in government and politics at the pioneering sixth form. Mr Lewis was then shown around the Sixth Form and Great Yarmouth Charter Academy by the Principal, Kevin Blakey and Head of Sixth Form, Farai Chininga, highlighting the state-of-the-art science labs and new technology rooms.
Farai Chininga, Head of Sixth Form, said:
"It was great for Mr Lewis to come in and speak with our students, allowing them to ask important questions and gain answers. We are extremely proud of our new sixth form and we are delighted to have the opportunity to show our local MP all of the brilliant things we are doing as a post-16 provider."

"We are proud to be able to offer our students these new experiences alongside providing the best possible education and training, setting our pupils up for rewarding careers in the future."
A number of Sir Isaac Newton East's first cohort of students have moved up from Great Yarmouth Charter Academy's high-achieving Year 11 cohort, where the pupils attained the school's best ever GCSE results in Maths, Science, French and History, among other subjects. The same cohort are recognised as having made the most progress in their learning throughout the school's history, attaining a 0.42 Progress 8 score in their GCSE's, placing the secondary school as the 8th best in Norfolk and in the top 20% in the UK!
Kevin Blakey, Principal. said:

"We are delighted to offer the opportunity for our Sixth Form students to meet and ask their local MP questions in person and learn more about education and having a career in politics. I am proud to showcase our outstanding school and the hard work our committed team of staff and pupils have shown."