Great Yarmouth Charter Academy students raise record amount for children's hospice
Back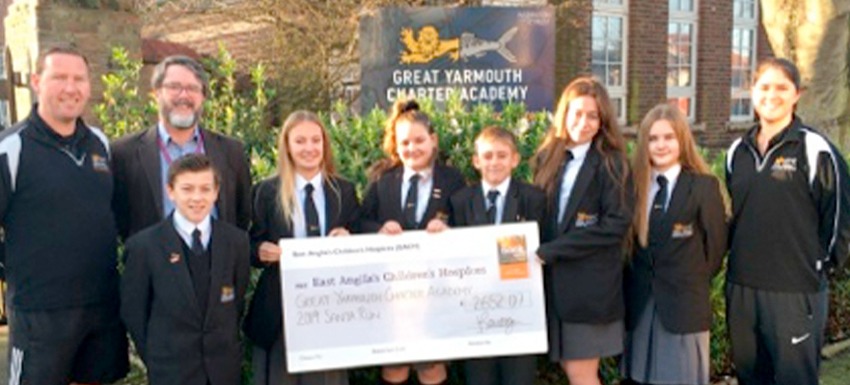 February 18th 2020
Students at Great Yarmouth Charter Academy (GYCA) have raised thousands of pounds for East Anglia Children's Hospice (EACH) during the charity's annual Santa Run.
While most of us were keeping warm, our brave PE students faced the cold to raise money for charity - by running on the beach dressed as Santa. They have now given their donation to EACH for a staggering £2652.07 - the most ever raised by a school taking part.
Our school takes part in the run annually and has raised a total of £8,636.77 for the charity that provides care and support to children, young people and their families.
Tim Jenkins, community fundraiser at EACH, said: "Great Yarmouth Charter Academy held their first EACH Santa Run back in 2015 which raised a wonderful £845. Today I was completely bowled over to receive a cheque for an absolutely fantastically amazing £2,652.07! A huge, huge thank you for this.
"It is by far the most any school has ever raised from their Santa Run and I hope that everyone involved feels very proud of themselves. In total, you have now raised an incredible amount. I am very much looking forward to seeing how much you can raise in December 2020."
"These events have always been very well supported, but this year we were absolutely blown away by how well our whole school community got behind this fantastic cause and contributed to the event."

Victoria Savage, from our PE department